Hello Cross-Atlantic Friends in European, UK, Scandi and beyond. Malleus has finally released their run of our Burning Wheel 20th Anniversary posters.
We are proud to present our print for the 20th anniversary of The Burning Wheel.
The Burning Wheel is a RPG written and published by Luke Crane.
It has been very interesting and challenging to work together, entering a new and different world for us.
We discussed together with Luke about the image design and the final result was a sacred figure holding a dice, unleashing symbolic flames and the Burning Wheel on the background.
On our webstore: THE BURNING WHEEL – 20 YEARS – Malleus
You will find a very limited edition of 35 copies printed with 5 colors on black paper.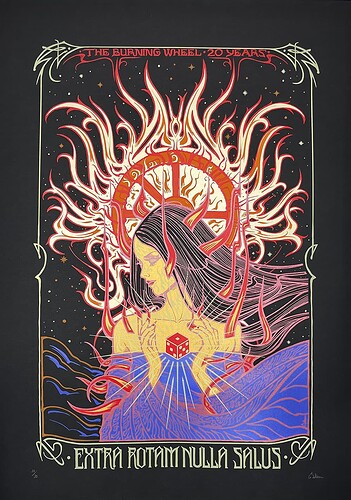 Honestly, the digital image does the poster no justice. The metallic inks are glorious. I hope you can see for yourselves!
Best,
–Luke