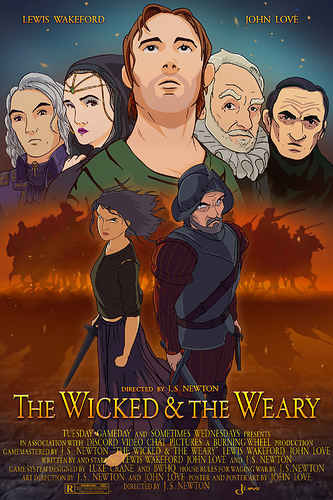 Since we lost count after 80 sessions, I won't be able to offer much in terms of actual play. it's a two-year, blissful and agonizing blur to me at this point. A brief summary is impossible, because there would be too much context to keep it brief. However, I'll offer a synopsis:
It's the story of a Sorceress named Yvonne (PC Bottom left), who would go on to seal Hell from the mortal plane, forever.
It's the story of Lucas (PC Top middle), Yvonne's Faithful nephew who would go on to become the Raven Saint after sacrificing himself to kill Avalac (Satan).
It's the story of Gavriel Calderon (PC Bottom right), an exiled Iberian general and widowed father and grandfather, who would go on to help Yvonne and her allies win their battles in their quest.
And it's the story of Immortals who have made difficult decisions that impacted the world for centuries.
It's hard for me not to reminisce about this tragic campaign without tearing up, or smiling, or laughing. It was one of the most meaningful stories I have ever had the pleasure of helping to tell. It was one of the most exciting games that I have ever played in.
I'll never forget it.