In preparation for future play using this system, I've been reading up on the things that will be important for our group to know. We will probably see custom monsters in need of full statblocks, so I've looked at the examples in the BWG appendix. There are a few questions I have.
First, and most confusing to me, is how the mortal wound of a creature is listed in two places, and often with two different values. I'm including a screenshot of the wyvern statblock, where the mortal wound is listed as B15 and B11. Based on the forte and power, the 15 value would be the correct one. I see no traits that would affect the value. What's going on here?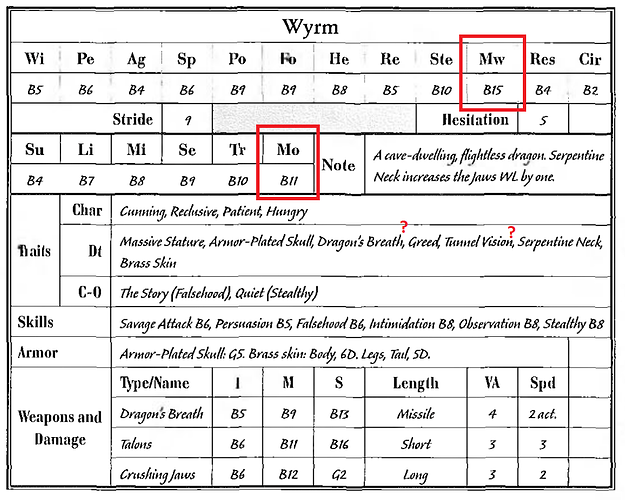 Speaking of traits, there are a number of die traits listed that are not in the book. I assume these are carryovers from the now unavailable monster burner? Are there any ways to read the monster burner now?
Finally, is there an available blank statblock for custom monster creation purposes? I believe I saw a link when looking around that led to the BW wiki, but the link was dead. Especially great would be some sort of digitally fillable version.
Thanks for reading and for answering.