Want to try out those new shiny rule books?
Come join us for a weekend of online Torchbearer.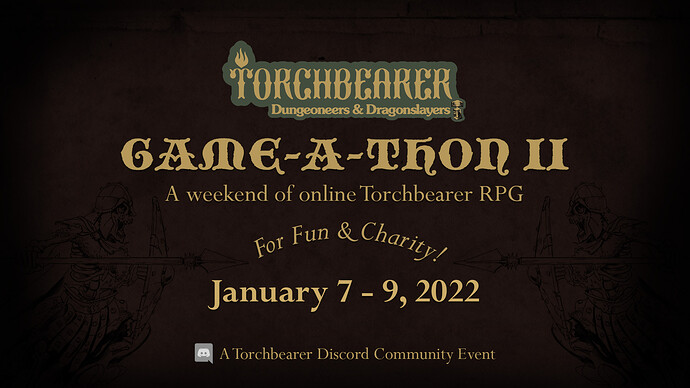 Torchbearer Game-a-thon II
January 7-9, 2022
A weekend of online Torchbearer
For Fun and Charity
Free
All welcome, whether new to Torchbearer or an old vet
Pre-register by December 21st. Apply to join the Guilded Torchbearer server at https://www.guilded.gg/Torchbearer
RSVP for games you want to play by December 30th
For a Good Cause
The Game-a-thon is raising funds for the North Shore Animal League https://www.animalleague.org/
The North Shore Animal League has been taking care of homeless animals displaced by the hardships of the pandemic. The North Shore Animal League is the world's largest no-kill animal rescue and adoption organization. A pioneer of the no-kill movement, North Shore Animal League America continues to lead the way with the development of national and international programs that increase adoptions and raise awareness about the plight of homeless animals.
We ask everyone playing to donate if able. Any help from $1 to $100 goes a long way.
Raffle Prizes
As a part of our charity fundraiser, you can win a game with Luke Crane or Thor Olavsrud, co-creators of Torchbearer. Also, one random runner-up will win a Middarmark Book and Map prize.
Donate any amount to the North Shore Animal League. Click the Donate button at https://www.animalleague.org
One entry per person.
Choose only one of the two raffles.
Four random entries will be selected per raffle on December 20th, 12:00 ET.
One winner will be selected from the remaining entries for the Middarmark Book and Map.
Luke Raffle
Enter the raffle for a Torchbearer session with Luke: https://forms.gle/ZCxyiLhLudfVS9PT8
Game Session: Sunday, January 9th, 2-6pm Eastern US
Thor Raffle
Enter the raffle for a Torchbearer session with Thor: https://forms.gle/AWo2Pgdo8uDQJMnGA
Game Session: Saturday, January 8th, 2-6pm Eastern US
Technical Requirements
Events must be listed on the Guilded calendar.
GMs can host the session using a virtual tabletop of their choice (Roll20, Guilded, Google Chat, Tabletop Simulator, etc).
All players must be able to send and receive audio. A camera is not required.
You must have email permission from everyone in the session to screenshot, record, or stream any portion of the game.
You are responsible for your own schedule.
Torchbearer Discord
This event is organized by the Discord Torchbearer community. Join us here: https://discord.gg/HQjA7qG to share more ideas, talk rules, and cheer about Torchbearer.