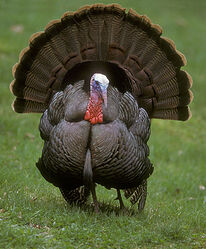 Wild Turkeys
Wild turkeys are fierce, aggressive, and territorial. Flocks of turkeys populate the edges of forests in highly-organized groups. Novice hunters should think twice before engaging with large groups, for wild turkeys fearlessly defend their nests.
During the fall, males segregate into flocks by age and females form flocks with their offspring. During mating season in the spring, a solitary male might hold a harem of 20 females, while sibling males band together in team-courtship flocks of up to 50 females.
Nature 1 Might 1 Precedence —
Gobbling, Foraging, Roosting
Type: Beast
Instinct: Never leave the nest undefended.
Specials:
Highly Social: A flock of five to 10 count as Might 2 and more than 10 count as Might 3.
Turkey Vision: During the day, a turkey's keen sight adds a factor for hunting tests. However, turkeys cannot see well in dim or dark light, so the hunter gains +1D during those hours.
Hit points:
Flee/Pursue 3
Capture 2
Kill 1
Weapons
Sharp Talons: Kill, Capture, D/O +1D Attack
Pecking Beak: Kill, Capture, D/O +1s Feint
Low-flying Sprints: Flee/Pursue +1D Attack
---