Done. Oh wicked taskmaster!
there was a glitch in this thread. sorry if I lost your posts.
-L
Okay, now you've got me checking my mailbox – EMPTY, damn it! I was really trying to remain so patient too. :x
Yours is going to be in the next batch, Tony.
-L
Doh!

Ladies and gents please add your books to BE Burning By Numbers. Thanx.[/quote]
Hey I just got my preordered illustrated copy. Where do I find the copy number?
Ladies and gents please add your books to BE Burning By Numbers. Thanx.[/quote]
Hey I just got my preordered illustrated copy. Where do I find the copy number?[/quote]Hey Viktor, your book has number 16 and it was the only one that wasn't numbered

.
What? I forgot to number your book? Impossible… Someone must have erased it.
-Chris
Probably some dirty Vaylen

My beautiful brick has arrived. I must say I was highly impressed with the Polish armor – should I ever have to face a Mongol Horde or the US Postal Service, it is certainly what I would choose to wear.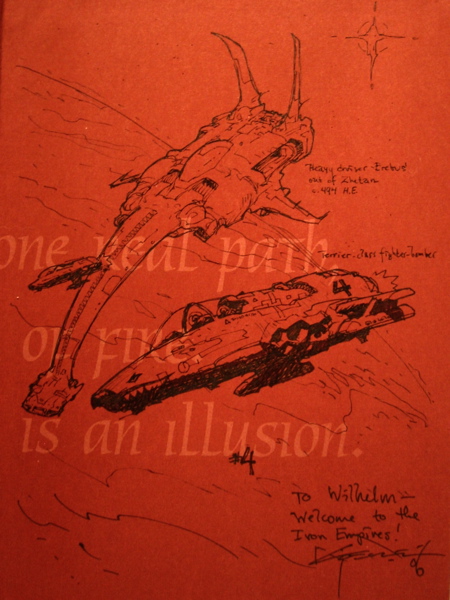 Heavy Cruiser 'Erebus' out of Zhetan c. 494 H.E.
Terrier-class fighter-bomber
Hey,
I got mine in the mail yesterday (book 3) and it's awesome. I mean, AWESOME! I love the look, the feel, and even the smell of the book. The pins and cards it was packaged with were an added, unexpected bonus.
I love me the drawing, also, and big thanks to Christopher for doing such a fine, fine job. The fact that it's got my name on the iron is even cooler. (Though I wish my last name were something awe inspiring and hard-sounding, not "Hosterman". Heh.)
Regards,
Daniel
P.S. Is there going to be a place to compile/collect scans of the custom artwork?
Do not get ahead of us, there will be

Cool, I figured you guys were going to do something like this, I just wanted to bring it to the table.
Oh, and I have no idea why I didn't mention this in my original post, but THANK YOU for all the work you put into packaging this book for shipping. My book is in pristine condition and there was obviously a ton of care that went into making sure it got to me that way.
With all of the precautions taken in the packing, I'm shocked that the postal service can screw these books up. They must be doing some massive damage to the boxes.
So, again, thanks for all the hard work and love that went into the book, from creation to it arriving at my door.
Regards,
Daniel
Probably some dirty Vaylen ;)[/quote]
Damn Vaylens! Its alright my illustrated copy, was number 4 I'm sure

Yea the packaging was so good, it took like 10 minutes to unwrap it.
I'll try to post Chris's illustration tonight.
What are you talking about, Hosterman is super hard sounding…have you never seen Cross of Iron? You just have to imagine the thickest German/Kern accent in the empires, screaming out across the battlefield… "Hostamaan!! Bring up ze Fuuzor! Kvikley!" "Hostaman, Halp me, how do I reload?!?"
I don't know if it is a German name, but it's totally got that Teutonic vibe.
All packages have shipped. If you don't have your book (or t-shirt or comic or whatever) yet, you should have it by the end of the week.
Thanks all for your supreme patience. It's been quite the ordeal.
-L
#29 here! Thanks so much for all of your hard work, guys, and Chris, thanks for the illustration of the guy in iron. It really looks great!
You're very welcome, Mr. Durgil!
-Chrisishappytobedonewiththosefreakingsketches
Who is Number 2?